Residential & Commercial
Sand, Boardwalk, and Cement
The beach town, Avon by the Sea, is situated on the Atlantic Ocean and surrounded by the Shark River and Sylvan Lake and hardscapes can take a beating.
Homeowners and investment property owners of summer rentals strive to maintain the allure of the shore colonials, apartments, and beach house rentals.
Stamped concrete pathways and driveways offer low maintenance solutions for this beach town.
Recent Projects in Avon-by-the-Sea, Monmouth County, NJ
Sanstone Concrete has helped homeowners replace driveways, sidewalks, concrete stairs, patios, and foundations. We provide both masonry and stamped concrete services as well as concrete, pavers and stone.
Hardscapes include; fireplaces, fire pits, pool patios, retaining walls / seating walls, mailboxes and many more masonry services.
We have been working with stamped concrete techniques since this industry began.
CALL for a FREE QUOTE!
732-730-0748
For more information or to check out other projects, check out our gallery to view completed projects in the area.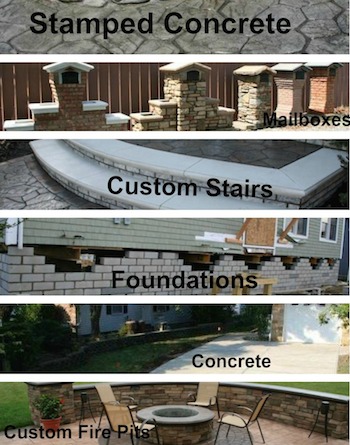 Avon-by-the-Sea
Concrete Contractors
CALL for a FREE QUOTE!
732-730-0748
Concrete Driveways & Sidewalks
Concrete Pool-scape
Custom Fire Pits
Foundations
Mailboxes Brick/Stone
Pool Patios
Stairs
Stamped Concrete
Plus many more masonry services
Call 732-730-0748 for an experienced concrete masonry contractor in Avon By The Sea, New Jersey.