Custom stairs can be designed with concrete, bullnose, cultured stone veneers, brick, natural stone, or stamped concrete. You can dramatically change the entrance of your home with new stairs. If your backyard is on an incline, multi-level patios and custom stairs can turn your yard into a gorgeous living space! If you're designing a pool-scape - stone stairs can help showcase your patio or pool.
Custom Stair Services
Contact us if you need:
Front entry way stairs
Back door / sliding door stairs
Patio stairs
Stone stairs
Cement stairs
Stamped concrete stairs
Cultured stone veneer stairs
Masonry/Contractor Building Custom Stairs
Sanstone Concrete works with different types of materials for outdoor stairs, from simple concrete stairs to stairs built with natural stone, cultured stone veneers, brick, pavers, and stamped concrete. We've included some photos for projects here and in our gallery. If you don't see a style, size or color you'd like, just ask us.
Click on the images to the right to see larger views of these custom stairs. Additional projects in our gallery - circle stamped culture stone risers and bullnose and stone stairs. And the stamped concrete pool-scape patio below with two sets of outdoor stairs.
More photos of custom stairs designed and installed by Sanstone Creations in our Stairs Gallery.
Masonry / Contractors
CALL for a FREE QUOTE!
732-730-0748
Concrete Stairs
Stamped Concrete Stairs
Natural Stone Stairs
Cultured Stone Stairs
Plus many more masonry services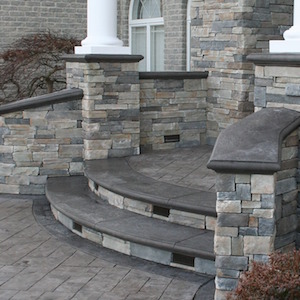 view more about cultured stone stairs
Contact us 732-730-0748 for a free quote or outdoor stairs.