House Raising Foundations Services at the Jersey Shore
As many Jersey Shore homes needed to be raised after Hurricane Sandy, Sanstone Creations has worked with house-lifting contractors around the state. Elevating the home will help to protect from future water issues. While the home is elevated we block or pour the concrete foundation. After the home is placed back onto the foundation, stone brick or stucco can be added. We are proud to say that our diligent work ethic has helped many of these homeowners to move back into their homes faster.
MORE THAN HOUSE LIFTING
In addition to the foundation some homes require new garages, landings, and stairways which we can provide as well.
HOUSE RAISING PHOTOS
The elevated house on the upper right is the completed project of a raised home in Silverton, New Jersey. The home has a new foundation, concrete floor, and a stone veneer.
The house on the bottom right was during a work-in-progress of a home in Neptune, New Jersey. In this photo you can see the raised home, and block work for the pilings and foundation.
The house below is in Brick, New Jersey
CONCRETE CONTRACTOR for HOUSE RAISING PROJECTS
As a masonry & concrete contracting firm with over 35 years of experience, we have been called upon to work on the foundations and house lifting projects of homes at the Jersey Shore.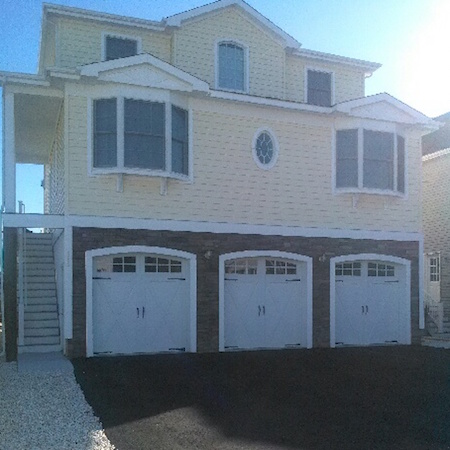 Home Raised Silverton, NJ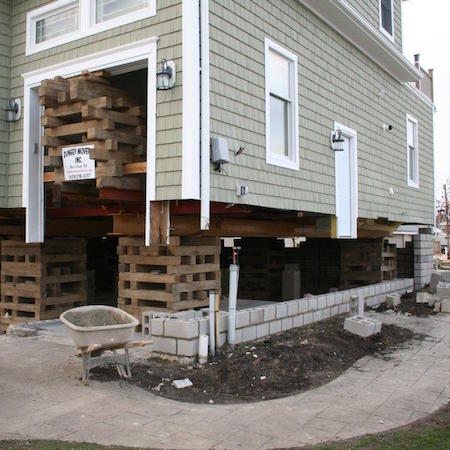 Home Raised Neptune, NJ
House Raising Foundations Services at the Jersey Shore
Call 732-730-0748