Residential & Commercial Masonry
For over 30 years Sanstone Concrete has provided masonry and stamped concrete services in Forked River and other Jersey Shore beach towns. Hardscape designs are created with concrete, stamped concrete, pavers, brick, and natural stone. We can quickly transform the front of your house, the backyard, entry ways, walkways and patios.
CALL for a FREE QUOTE!
732-730-0748

Recent Concrete Projects in Forked River
Pool Patio – a pool patio with a grey random stone pattern stamped concrete form.
Driveway – a stamped concrete driveway with beige natural stone pattern.
Fire Pit – a backyard patio with stamped concrete, retaining walls, stairs and a custom fire pit.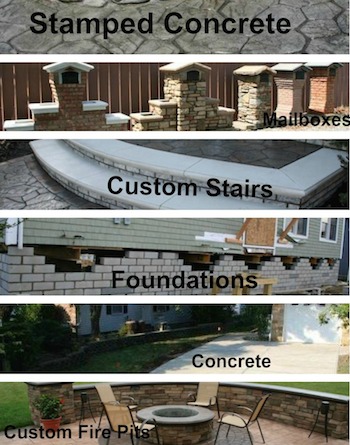 Forked River
Concrete Contractors
CALL for a FREE QUOTE!
732-730-0748
Concrete Driveways & Sidewalks
Concrete Pool-scape
Custom Fireplaces
Custom Fire Pits
Foundations
Mailboxes Brick/Stone
Pool Patios
Outdoor Stairs
Stamped Concrete
Plus many more masonry services
For more information or to check out other projects, check out our gallery to view more completed projects.
Call 732-730-0748 for an experienced concrete masonry contractor in Forked River, New Jersey.